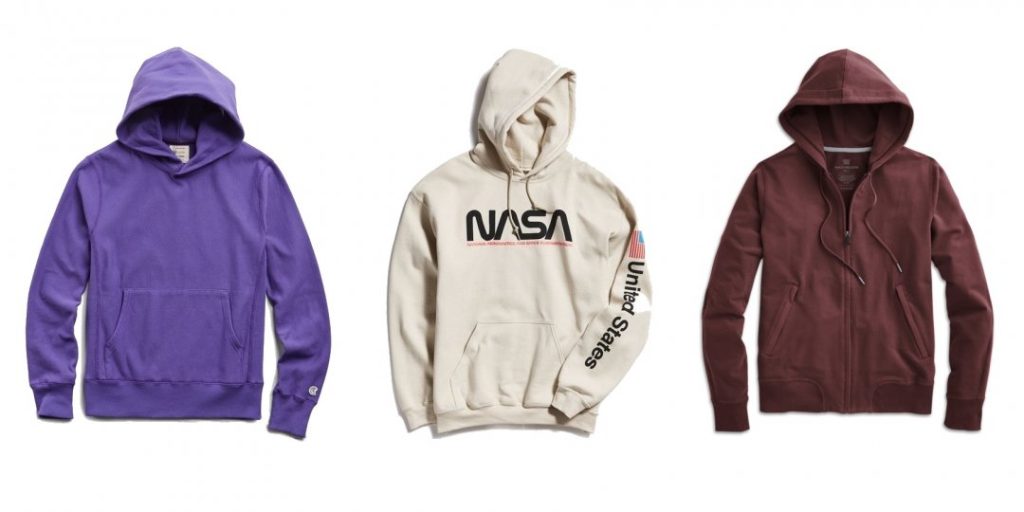 Hoodies for men, or sweatshirt, a dress made mostly of loose, thick fabric. The attached hood works to cover the neck and head, keeping the wearer safe from the cold and rain. At the same time, cozy fabric and loose fit provide an excellent option for storing clothes for all seasons.
A common view about hoodies for men is that many skaters, graffiti artists, and break dancers wear them. It is also considered normal for thieves and robbers because of the secrecy due to the hood.
However, it would be wrong to attach such a warm, flexible foundation to that. The fact is that the hoodie styles available today can be combined with a variety of other items to create a stylish outfit for any man.
Mooka.pk has a huge collection of export quality Hoodies like Rockit-IT, Oxford University, Briton, FOX Racing, HONDA like all original pieces available in mooka.pk. You can shop with us and find out the best quality Hoodies and sweatshirts.
Hoodie: A Must-Have Clothing Essential for Men:
Hoodies for men can be easily paired with other basic items such as jeans, jackets, and jerseys. Depending on the color, the fabric, and the fit of your hoodie, it is a very flexible material, making it available in the men's wardrobe.
In recent years, due to the popularity of this important style, brands have begun to make excellent men's hoodies with a variety of colors and designs. There are different hoodies for men in Pakistan that are dark in color and are slightly proportional to look smart, leaning heavily on a minimalist style. And there are functional, waterproof hoodies in the open space for layering layers and regular winter clothing. It is not uncommon to find sweatshirts with hoods with bright hues of that bright and vibrant look.
There are men who like to dress smartly, and there are those who never want to give up their luxury in fashion. And then, there is the third group of men who know how to balance things and incorporate comfortable things into their stylish look. The hoodies for men in Pakistan, separately select the third type of men as it looks good even when you decide to pair it out of the ordinary.
Try to keep things in perspective by having one hoodie that is comfortable, in a standard style, and one that fits well and is neat.
Speaking of online hoodies for men and women, what comes to your mind? First we explain according to an experimental review. The girl is wearing her boyfriend's hoodie with a dirty belt or a guy wearing a hoodie and walking down the street with a deep look. Even while on Netflixing, you may have noticed that most of the time Hollywood makes people black or black characters by making them wear hoodies. Like, in the Netflix series "Arrow", the multi-million dollar playboy after discovering an archer's ability returns to his hometown to take on the city vigilante, wearing that – the Green Hoodie.
A hoodie is a great casual fashion item that anyone can wear, whether you are a sweet 16 year old girl or a white bearded man in his 60s. Once upon a time, decades ago, young people used to wear hoodies to show their anger. Then, hoodies have gradually become a way to keep athletes dry and warm in bad weather.
Now, these flexible garments are part of the fashion trend of most people. It is also part of sports such as snowboarders, skaters, and hip-hop traditions and stag parties.
So, if you buy online hoodies for men or women, then firstly you have to know the complete information regarding hoodies. You have to know the best online stories relevant to hoodies who have all categories of export or import level hoodies. You have to know about your size, our shoulder measurement so that you choose the best hoodie for you.
What exactly are Hoodies?
A hoodie is an extension of a sweatshirt attached to a hood. Normally, hoody has no buttons. There was a time when it was known as a " hooded shirt. " Later, with its popularity, it is now called " hoodie. ' see today in the market a different variety of sweatshirts.
Like other fashion hats, hoodies are also designed for comfort, to feel comfortable and comfortable. With the big companies re-launching their top range of sweatshirts, it looks like these dresses will last a long time in the market.