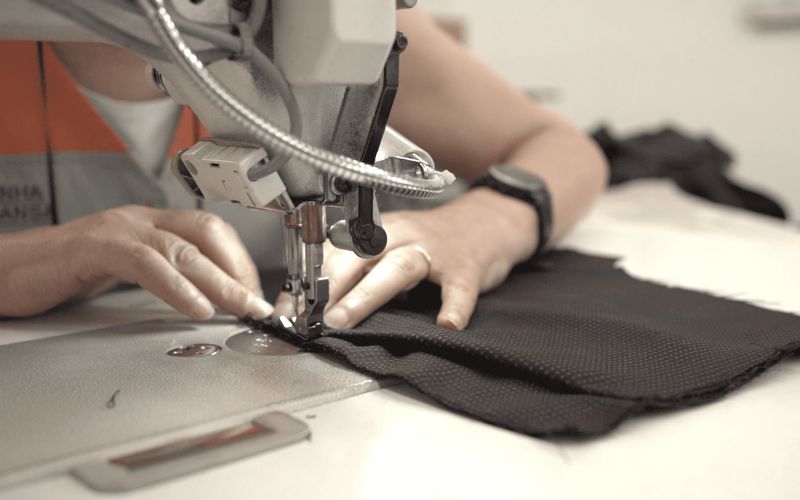 Are you new to the world of the clothing business? And if you aren't aware of anything about how the industry works, don't fret since, in this article, we're going to cover everything regarding manufacturers of clothing in-depth, to ensure that by the end of this article, you'll be informed and knowledgeable regarding clothing manufacturers. In addition, we will discuss the various types of clothing producers and their functions.
Different Garment manufacturers serve different clients by meeting their distinct needs in manufacturing. We will go over the various manufacturers in depth so that you are confident and certain regarding which type of garment manufacturer is the most suitable for your needs.
So let's begin and continue to follow the suggestions of fashion and industry experts.
What is a Clothing Manufacturer?
As the name suggests a garment manufacturer is a person who is skilled and equipped with the necessary equipment and machinery needed to make clothing. They follow all fundamental processes and processes to make clothes. The process involves cutting, sewing, and then finishing the garments.
Clothing companies typically deal with mass production. When they are involved in mass manufacturing processes, it becomes longer and then breaks into several sub-operations. The sub-operations or jobs are separated into various teams according to the kind of work, the workers' capabilities, and the machines.
They are accountable for the transformation of raw materials into finished products. Here's a brief overview of the main step in the manufacturing of garments:
Production plan
Quality test
Designing
Quantity check
Costing
Sizing
Evaluation of sizes
Standardization
There's plenty more to be focused on.
One More Important Element
One of the key components of manufacturing clothing is the process of planning production. By planning, production manufacturers can track how clothes are made and how each stage of manufacturing cloth is carried out and how each team in the production process operates.
Departments in a Garment Manufacturing Factory
The garment manufacturing factory has various departments within which the entire process of making garments is broken down. These are the departments that are mentioned.
Marketing and business development team
Designing department
Merchandising department
CAD, pattern-making department
Sampling department
Fabric Store for team fabric
Teams for trimmings and accessory-making
Fabric testing lab
Control and planning of production
Cutting department
Sewing department
Quality control/Quality assurance department
Machine maintenance department
Department for washing clothes, clothing, and other items
Finishing department
Printing department
Department of Embroidery
The types of clothes Manufacturers and what Are Their Responsibilities?
There are 4 kinds of clothing companies working in the field.
As we mentioned earlier, CMT stands for Cut, Make and Trim. Now you have a basic idea of how this technique is executed. The CMT method is the best. This way, you can know exactly what your clothing piece will appear when it's finished manufacturing. You must communicate your thoughts to the manufacturing company about how you would like your clothing to appear, then decide on the ideal size, shape, and designs, as well as classifications as well as color, and printing together with the company.

The company that manufactures this technique generally works in three phases such as cutting, making, and cutting. They offer a wide range of services, including cutting fabric with automatic technology as well as quality checks as well as quality control, and many more.
Cut
Cutting is the initial stage of this method. The various pieces of clothes, like shirts or pants, are divided into pieces that are then joined.
Make
After the cloth has been cut and then rearranged into different pieces The cut pieces are then passed through various departments before they are then reassembled with other pieces at this point. In this stage, the garments are checked in the process of preproduction to ensure that every piece is properly assembled or produced.
Trim
This is the final step of the process. all clothes are cut to fit after the preprocessing stage. Once the trimming is completed, a quality inspection is carried out. Furthermore, any final tweaks are added at this point.
Information you give to CMT manufacturer CMT manufacturer
This is the complete list of information you must provide the CMT manufacturer.
Fabric choice
Fabric evaluation
Stitching techniques
Printing method (if any design requires printing on clothing)
Methods of packing
Original Equipment Manufacturer (OEM)
The term OEM is a reference to Original Equipment Manufacturers. OEM is the term used to describe a method of manufacturing that was developed by an original equipment OEM method is initially made to meet the customer's specifications. In this method, the entire set of features and attributes are pre-selected colors, functions dimensions, and functions All of these components are classified by the name of OEM products. In this way, certain products are made based on the preferences of the buyer and other items depend on the factories that manufacture them.

If you're working in conjunction with OEM manufacturers, they employ a different company to assist in creating packaging, assembling, and producing clothing. The capabilities of production for OEM manufacturers are vast. OEM manufacturers are extensive. They have the ability to work with a variety of organizations and partners that help the company maximize time, performance design, process, and design all around. This is advantageous for both the customers as well as OEM businesses.
Advantages of OEM
It can save the cost of large-scale purchases.
You can purchase high-performance products for less.
All products are closely examined by other companies.
Quality control.
Original Design Manufacturer (ODM)
This is where the initial design is based upon the design that was created by the manufacturer and occasionally, brands contract other designers or a third party to create clothing lines for them. The item could result from previous work by any other designer or manufacturer.

One benefit when working alongside ODM businesses is that these companies are able to create products that are similar to what you're searching for. There could be fewer changes. Thus, companies that have created all sets collaborate together with ODM manufacturers. Partnering with ODM manufacturers helps save time and money for both the company and its customers. time and money, since the customers do not have to shell out additional money for manufacturing and designing, and do not have to devote a lot of time researching and creating the clothing.

If you're a start-up with design on your side and you want to take on mass production and mass production, you must collaborate with ODM manufacturers.

The ODM manufacturer offers two different types of manufacturing: one is private label, and the other type is white manufacturing with a white. If you're not aware of it, I'll tell you about it.

Private label manufacturing is where the manufacturer sells the final products to specific retailers, with their logo and brand. In addition, white-label items are the ones that are offered to other retailers so they can sell the products in other manufacturing.
Advantages of ODM
It also saves time and money for the customers and the company.
There is no research or development.
Increased chances of growth for businesses because there's less to worry about.
Sample development.
Cheaper in prices.
Designing products is not required.
This allows you to have more time to concentrate on your marketing and business processes.
Private Label Clothing Manufacturing
The clothing brand that is the private label is a ready-to-wear item that was designed in accordance with the logo and label. After purchase, the product will be distributed across various brands. The companies that sell ready-to-make products collaborate together with privately labeled clothing producers. After buying the bulk amount of merchandise that retailers or brands sell the item to other customers using their logo or name.

The greatest benefit of clothes that are private label is the fact that they are generally available and easily matched with various styles. A brand is able to easily alter its products to meet the requirements of its customers or how they feel about them.

For instance, consider an industry that creates T-shirts featuring a variety of unique designs and offers them through their catalog. Other companies that work with these manufacturers are able to access the shirt and place an order for the largest amount in order to market the product to their clients. If one business purchases that dress, this will increase the chance of other companies or brands purchasing an identical T-shirt. This is why these companies advertise the same T-shirt to other businesses to be able to sell the shirt under their own brand name.
Benefits of private label clothing manufacturers
There is no hassle in creating an item on your own.
Your manufacturer assumes all responsibility.
Buy it, then sell it.
You can receive your item quickly and without spending the money to purchase it.
You can begin with low minimums.
Fast production.
Quickly delivery.

There is no cost for research and development.
Which One of Best for You?
The best option is contingent on the needs of your customers. Each brand's needs will vary. Making contact in conjunction with an OEM manufacturer is among the best options if you need a totally customized product manufactured by the manufacturer.
These companies can work in accordance with your requirements in terms of designs, sizes, and quantity according to your specifications. OEM manufacturers are a great alternative for you since they are unable to produce clothing by themselves, so they contract with a different manufacturer and collaborate with them.
However, ODM manufacturing is a perfect match for you if you are building your brand via marketing, especially if you're an entrepreneur in the market. In this case, you'll need to create your own clothing line yourself or employ a designer to create for you.
Conclusion
Here is an article about a clothing company that will help you understand what kinds of clothing companies exist and which one is ideal for you. We hope this article can help you. For further information on how to improve your line of clothing, please contact us to let us assist you in how we can bring impact to your line of clothing.